Updating Ownership for a Member
If you need to update the owner for a member/business, the change is simple.
First, you will navigate to their portal by clicking Member Businesses < Invitation List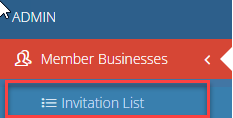 Click on the member business name to enter their portal.

On the left hand side, click "Settings"
The current owner details will appear under "Account Settings"
To change the owner information, update first name, last name and email address.

Click Save and Close
To double check your changes, click "User Management > Users" on the left hand menu and you will see "owner" next to the updated owner information.
IMPORTANT Things to note:
This user will not have a password to log in. You will need to email the owner and inform them that they should go to business.localexplorers.com and click "forgot password".
Once they reset the password, their login will be confirmed and they will have access to the portal as the original owner did.
Upon changing the owner information, the original owner will receive an email notifying them that their account information has been changed. If the previous owner tries to log in with their credentials, they will be given the error: No user found.