About Local Explorers Mobile Content Management System
Local Explorers mobile content management system (MCMS) is a feature-rich mobile platform that enables Economic and Tourism Development Councils to engage, manage and monetize their users anytime, anywhere. Daruma Tech creates immersive mobile experiences for Apple iOS and Android devices with pre-packaged mobile solutions.

MOBILE CONTENT MANAGEMENT
Update your app real time. Mobile content management lets you update the content in your app without the need to re-submit to the app stores.

CUSTOMER ENGAGEMENT
The more you learn about a customer, the better you can communicate with them. Our Customer Engagement Platform collects customer data.

ENGAGEMENT ANALYTICS
Know exactly how your marketing is doing with just a quick glance. Analytics from all your customer engagements can be seen right on our dashboard.

MEMBER MANAGEMENT
Associations can manage their members easily with a simple click of a button; deactivate, send a receipt or view their content.

MEMBERSHIPS
Take your loyalty program to the next level by including the paid membership feature which brings in revenue and offers users maximum benefits.

DELEGATED ADMINS
Each member will have access to their portal to manage their content. These include location listings, events, deals and other content.

REWARD MANAGEMENT
The reward program is what draws app users to participate in the loyalty program. Add, edit and fulfill rewards all from one location!

PASSPORT MANAGEMENT
Easily manage the backbone of the app, the Passport Program! Edit, update and enhance this vital tool with a few clicks of a button.

PUSH NOTIFICATION
Connect with app users by sending push notifications to promote events, news, updates and more.

LOCATIONS BY GROUP
Ability to group locations based on geography or commonality.

ADVERTISING
Generate revenue, get local businesses to become sponsors and invest in your app.

FESTIVALS
Attract festival goers by providing details to your next festival so they can make the most of their visit.
Analytics
The Explorer App's back-end dashboard gives you all the intel you need on your customers and marketing efforts—from the number of app downloads to the locations and visiting and shopping habits of each user. The dashboard is also where you can manage customer contacts and respond to any contact requests.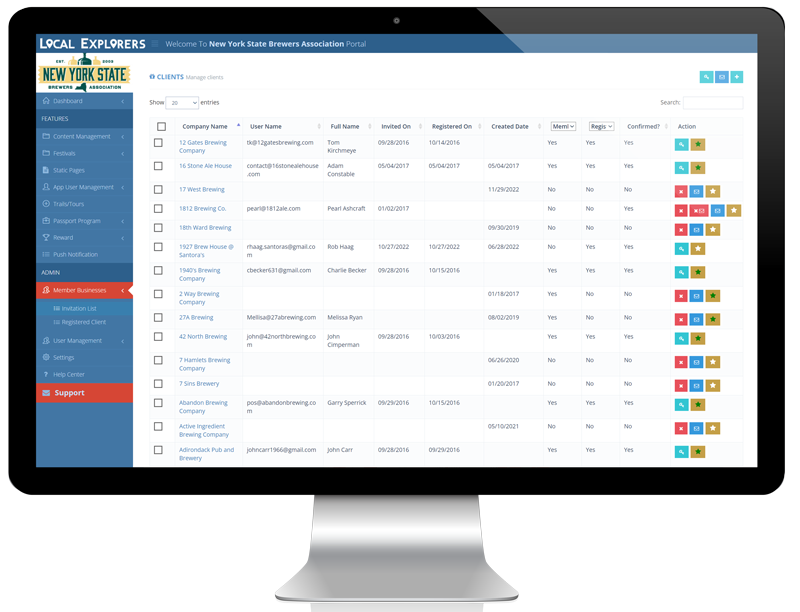 Delegated Admin
Each participating location posts and manages its own information. easily and securely. This ensures all information—from hours of operation to special offers and events—appears accurately and exactly as intended.
Get in touch with us
"*" indicates required fields