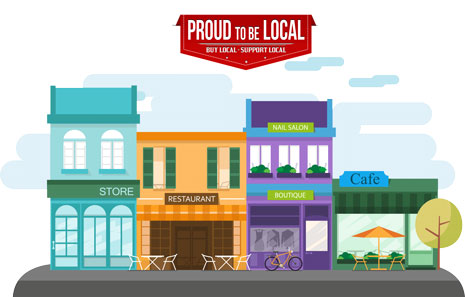 As shoppers and tourists hit the road again, visitors' bureaus, artisanal guilds, and chambers of commerce are looking for high-impact, cost-effective ways to attract visitors and their support of local businesses. They don't want to just tell visitors what they've got to offer—they want visitors to have an amazing experience they can't wait to share with their friends. And they don't want visitors to just have a great time—they want to incentivize them to come back and keep shopping and exploring, time and time again.
A growing number of savvy guilds and regional advocacy groups have discovered a smart solution to this challenge: the Local Explorers Trail App, created by Boca Raton, Florida software developers Daruma Tech. A turbocharged digital reimagination of popular paper passport and trail map programs, the Trail App is a powerful tool for visitor engagement. With the Trail App, custom-branded and configured for each community, users can find attractions or products of interest near them, check the business hours and offerings of local establishments, create lists of favorite venues, and map out their own tours of the attractions of their choice—right on their phones. But that's just the start.
The Trail App's real power is its ability to keep visitors coming: When users sign in, they get more than just information—they become part of a community of enthusiastic explorers. By visiting and checking into participating businesses and attractions with the app, users can earn badges and branded swag from participating businesses. They can check the app's leaderboard to see who else is actively exploring. And they can get notifications when their favorite places have news to share, such as promotions or special events.
In short, users get a friendly virtual tour guide—at no cost to them—who'll introduce them to places they'll love and invite them back, again and again.
Organizations already using paper passports to drive foot traffic have recognized the power of upgrading to digital with the Trail App.
"The Rhode Island Brewers Guild has seen a tremendous spike in demand for our paper passports," said Gary Richardson, executive director of the Rhode Island Brewers Guild. "And as popular as they have become, we know that we're missing folks who do everything on their phones and devices. Or worse, those who get most of the way through visiting all 28 breweries, then lose their passport! We knew it was time to go digital."
Richardson can speak to the effectiveness of passport programs for building local economies and brand recognition for local businesses. "One of my favorite passport stories is about two young men from Wisconsin who flew to Rhode Island last spring and completed all (22 at the time) visits on the passport in five days, even to a seasonal brewery on Block Island, 11 miles off the coast, that was closed. But they took a photo of themselves there to document reaching all the breweries in the state!
"The Tourism folks love that story, because those two fellows used the PVD [Providence] airport, stayed in hotels, ate meals throughout the state, and managed to visit just about every city and town in Rhode Island in the process," Richardson continued. "We posted a photo of them enjoying their last beer at a brewpub near the airport as they prepared to fly home."
Effective as passport and trail map programs are, however, they've historically been labor-intensive to organize and maintain. As visitors' bureaus and tourism boards can attest, a big challenge is ensuring maps or passports stay up to date as local attractions open, close, move, or change their hours. Reprinting hundreds of maps or passports each time a participating attraction changes can become prohibitively expensive—but no host community wants disappointed visitors driving out of their way to an attraction only to find it closed for the day.
Community leaders have found the Trail App an efficient and cost-effective solution to this problem. Its secure, user-friendly back-end platform allows participating attractions to update their information in real-time—which means app users get access to the latest information as soon as it's posted. This not only lets member businesses take control of their messaging and get their news out to interested visitors faster, but frees guild or tourism bureau management from onerous printing costs, as well as the responsibility for maintaining the app's content.
"This design was intentional," said Susan Erickson of Daruma Tech. "Nobody knows member businesses better than the businesses themselves, so the Trail App puts them in charge of their messaging. And this frees their umbrella group—whether it's a trade guild or a tourism bureau or a chamber of commerce—to focus on what it does best: support and advocate for all its members."
Erickson added that in-app advertising capabilities add to the app's affordability. "We want the Trail App to be accessible for smaller communities," she said. "As part of this, we incorporated in-app advertising. This gives interested businesses an opportunity for extra visibility on the app while they help support the app and their community group."
Shoppers and explorers are out again and hungry for new experiences—and the Local Explorers Trail App is a proven way to deliver what they crave. Are you and your members ready to welcome more visitors and shoppers?
Latest Articles
HARTFORD, CONN.—Connecticut's popular passport program for the state's farm wineries has gotten a digital upgrade with the May launch of the Connecticut Farm Wineries Passport app. The mobile app, built by Boca Raton, Florida-based software developer Daruma Tech and sponsored by Connecticut Farm Wineries and the Connecticut Department of [...]
BOCA RATON, FLORIDA—When the COVID pandemic forced craft wineries, distilleries, and breweries to close their tasting rooms, craft beverage guilds and associations across the country turned to Daruma Tech's award-winning mobile passport apps as a creative way to promote takeout sales and keep member businesses afloat. And thanks to [...]
BOCA RATON, FLORIDA—Software developer Daruma Tech, creator of award-winning mobile passport apps for artisanal food and beverage lovers, is moving into the distilled spirit space with a new app commissioned by the Colorado Distillers Guild.  With the app, a digitized upgrade of the guild's paper Colorado Spirits Trail map, [...]
Get in touch with us
Request A Demo
"*" indicates required fields