If all of your portals have been created and it's time to invite your business members, the process it simple!
Click on Member Businesses > Invitation List
This is the dashboard where you can view all member portals. To bulk invite all users that have not yet registered, click on Registered and filter to NO. (You can skip this step if it is your first time sending out invites)

On the top left hand corner, click "Show All Entries". This now displays all portals which have not registered. Select the check box in the very top left corner, which will select all items in your list.

Lastly, simply click on the blue envelope icon in the top right corner to send all invites.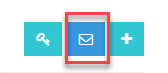 This process can be done as many times as you'd like.