Managing Cashiers and PINS
PIN management can be found under the left hand menu: Rewards > Cashier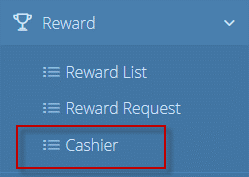 This will open the Cashier Dashboard. Here you will find existing cashiers and be able to manage the users and PINS.
To do this, you'll need to use the buttons in the "Action" Column.

To delete a cashier, click the red X button in the Action Column.
To Edit a PIN or cashier information, click the blue pencil icon. Fill out the changes and click "Save Changes" to update the cashier.
To unpublish a cashier, click the green thumb icon in the Action column. The thumb will turn down, the "Active" column will change to "No" and the PIN will no longer be active in the app when redeeming a reward.
To re-publish the cashier, click the golden thumb button.