Marking a Member Business as "Out of Business"
If you would like to mark a member business as "out of business", but do not wish to de-associate them completely, you can do so by navigating to their portal:
Click Member Businesses > Invitation List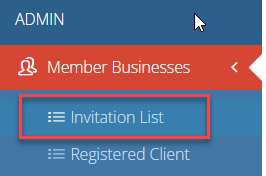 This will display your member dashboard. Search for the name of the member business and click on it.
On the left hand menu, click "Settings"
Select "Out of Business" and click "Save and Close"
Note: It's always best practice to click on Passport Management > Passport Event List and make sure that the location has been removed or unpublished from the list. This will ensure that app users do not try and go stamp at the location.